Submarine museums
Submarine museums


There are 89 complete submarines on display around the world (plus a few dozen more sails, conning towers, periscopes and other parts). Here are details of a dozen of them....
Portsmouth UK - HMS Alliance (1947) at the Submarine Museum, Gosport, Hampshire. Alliance is about 2400 tonnes, so roughly a thousand tonnes larger than HMS Triumph. However, much of her internal equipment and layout is very similar, and a visit to her will give a very good impression of how Triumph felt to her people. The submarine museum also has three smaller boats - a salvaged Holland 1, a german Bieber mini-sub, and a Royal Navy X-class midget submarine.
Chatham UK - HMS Ocelot (1962) at the Dockyard in Chatham. The O-class were the RN's workhorse conventional submarines for 30 years. Ocelot is quite similar to Alliance, and is also very reminiscent of how Triumph would have felt.
San Diego CA USA - Russian Foxtrot. The Foxtrot was basically a copy of the last German Uboats. The museum allows a full boat tour, and no internals have been removed. The boat is striking for its lack of clutter, and also for the spartan communist accomodation. The boat is in the San Diego maritime museum, and is well worth a visit.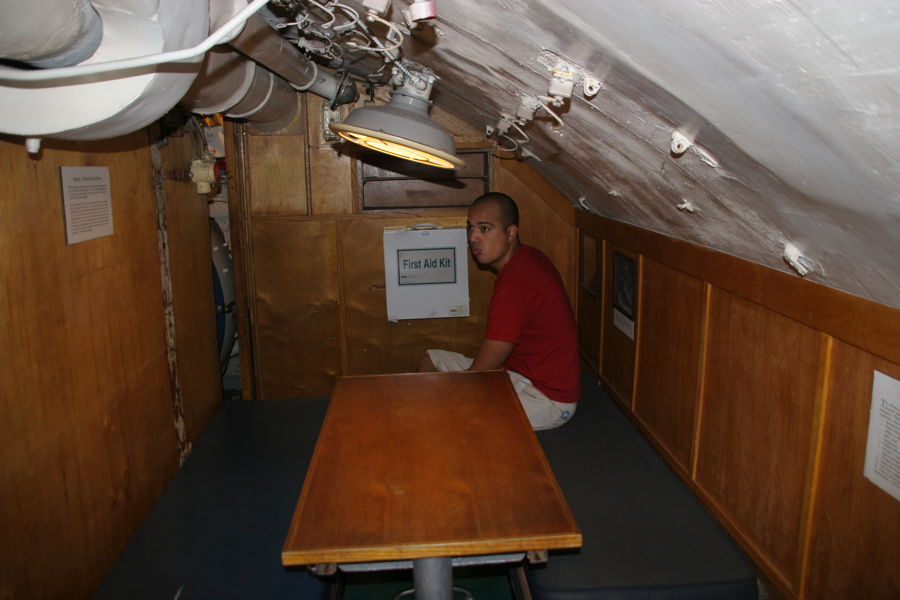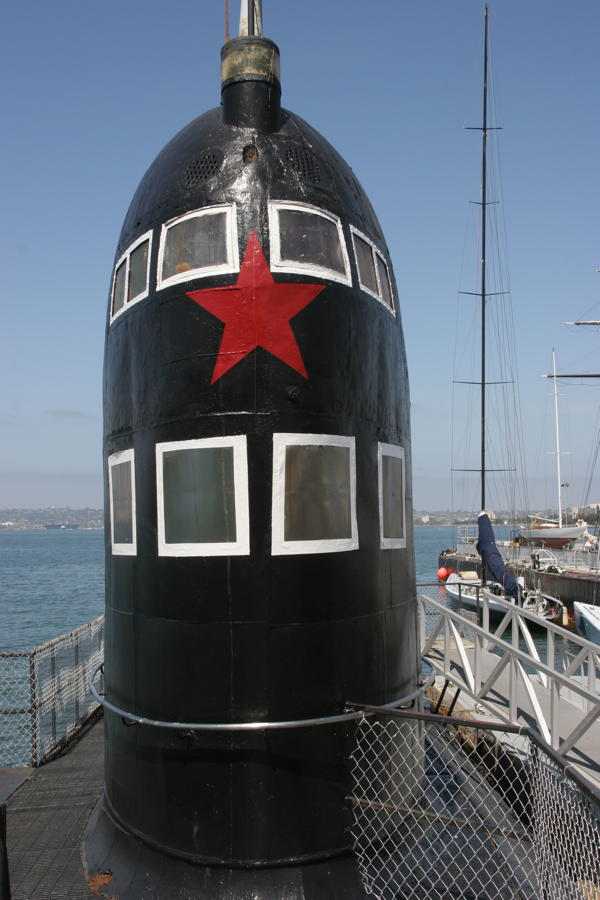 Across the quay from the Foxtrot is USS Dolphin, a deep diving submarine used for ASW practice. Dolphin is still in commission, but is open to the public. She is interesting for her small size and her extremely thick casing - some inches.
Vladivostok, Russia - has an early WW2 boat, up on stocks by the main harbour. Sadly they have removed most of the internal equipment to make space for a submarine exhibition, but a few parts remain. One cannot go onto the casing or onto the fin. This boat is among the oldest submarines on display around the world.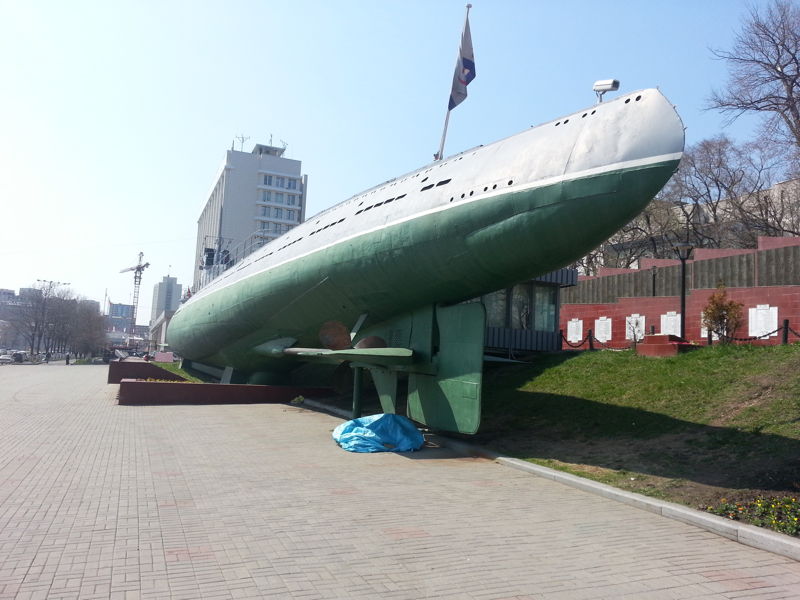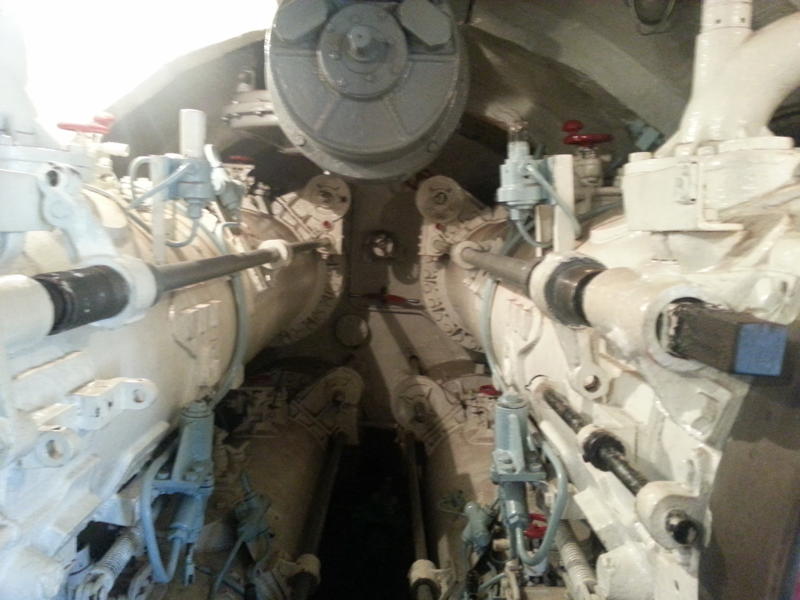 Vladivostok also has a miniature submarine on blocks near this boat, but not open to the public.
Moscow - Tango class SSK - Moscow's canal basin has a retired Tango open to visitors. The forward half of the boat is untouched. A part of the crew's mess has been stripped and turned into a museum, whose most interesting exhibit is a three metre long cutaway builder's model of a Tango. This is a joy, and shows the framing and tankage in perfect detail. Aft of the museum the machinery spaces are almost intact. Again, there is no access to the casing.
Next to the Tango are an assault hovercraft and an Ekranoplan - a surface effect vehicle. Neither are open but both are worth looking at.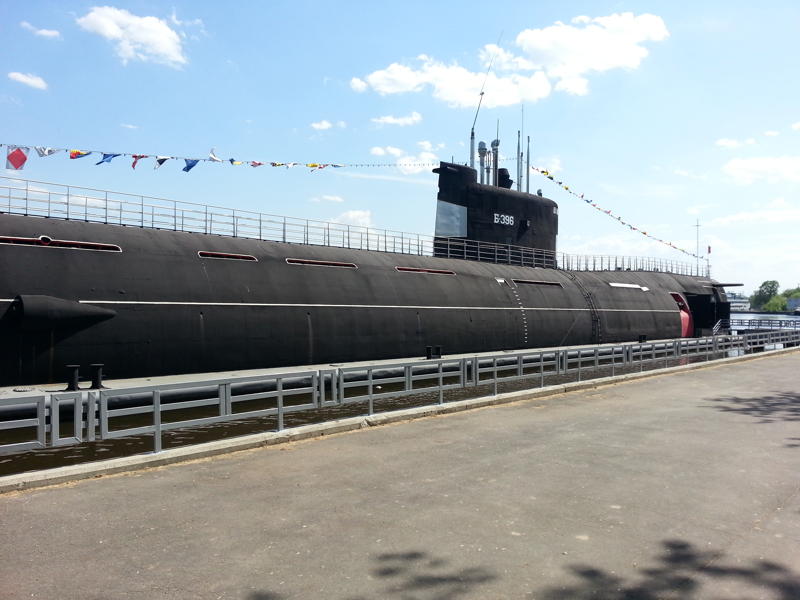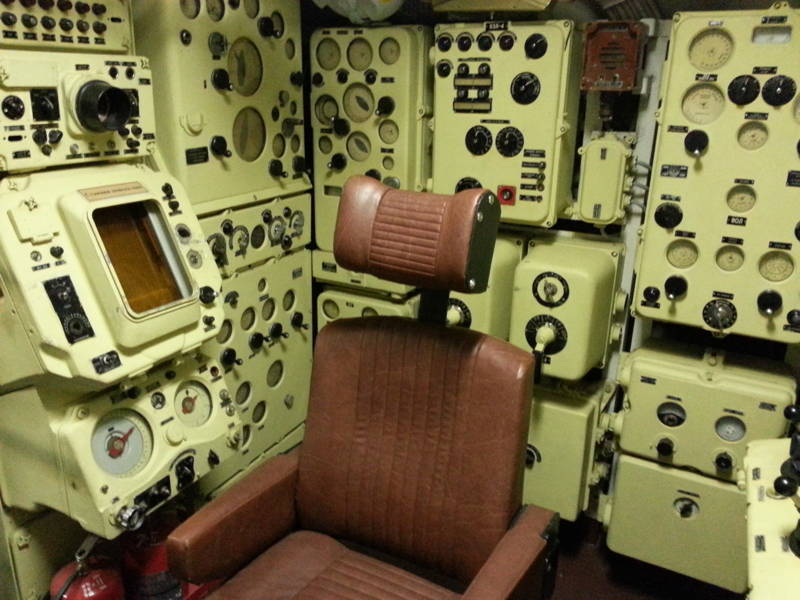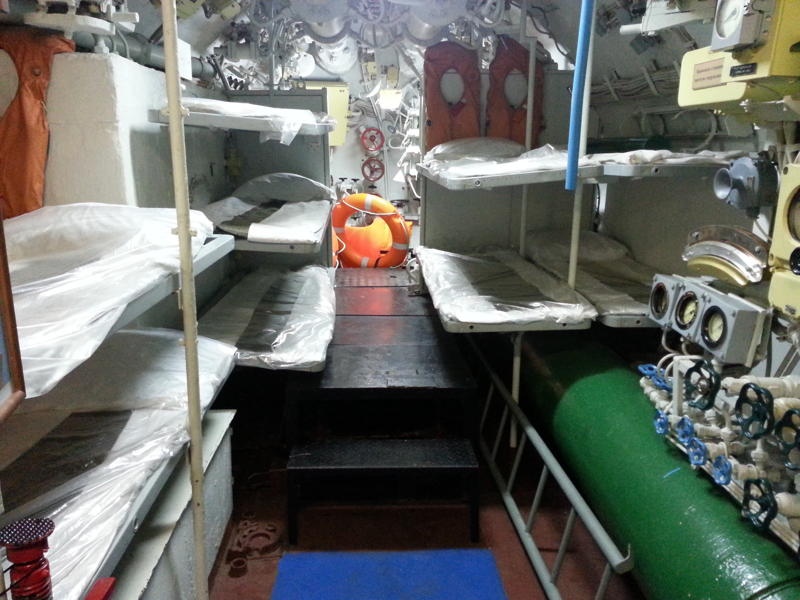 Portland Oregon US SSK Blueback - The US navy's last diesel electric boat, built in a full teardrop configuration. This boat is beautifully presented - all compartments are accessible, and the docents are very informative and helpful.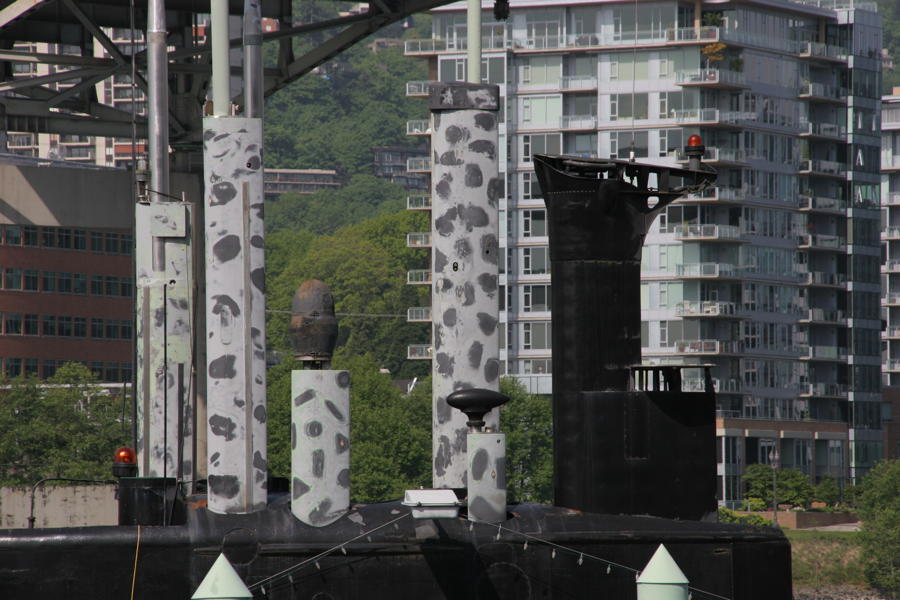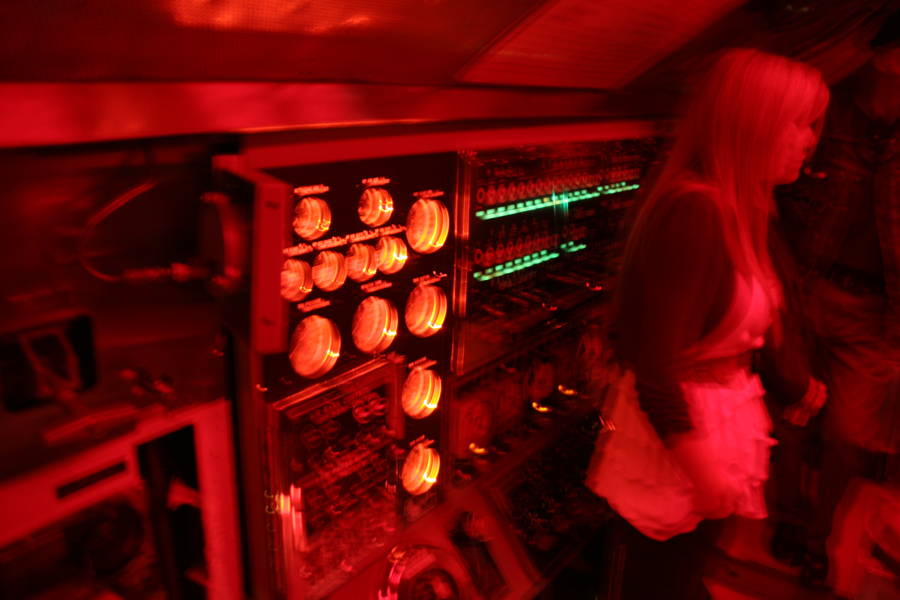 San Francisco - USS Pampanito - A large WW2 diesel electric boat which saw service in the Pacific war, but was mostly a training boat. All compartments are open, and none have been stripped. The Docents are ex submariners and are as interesting as the boat. A striking feature is Pampanito's bows, built high and wide for surface running in big Pacific seas. Accomodation is comfortable, for long patrols in hot weather.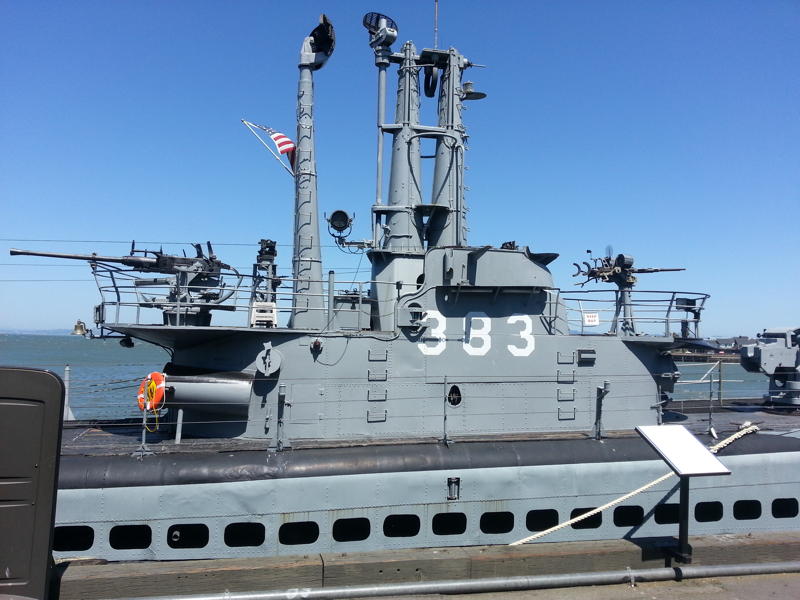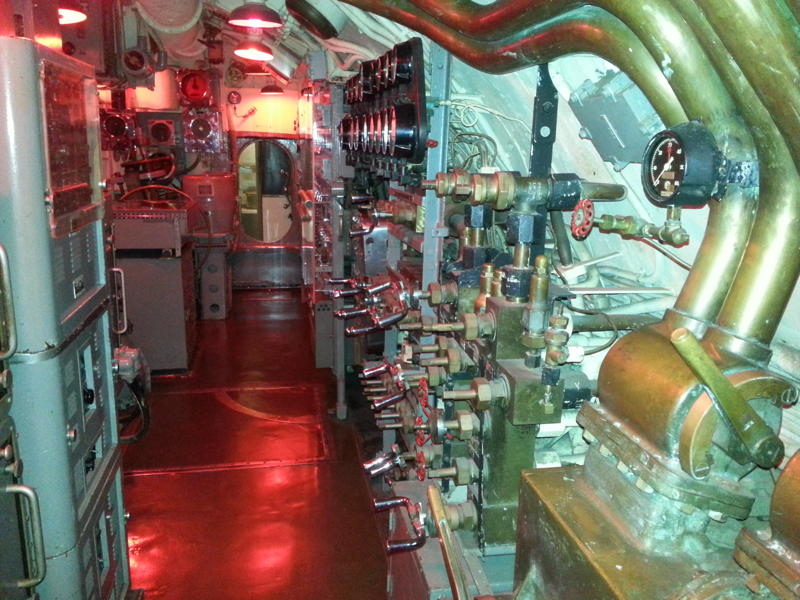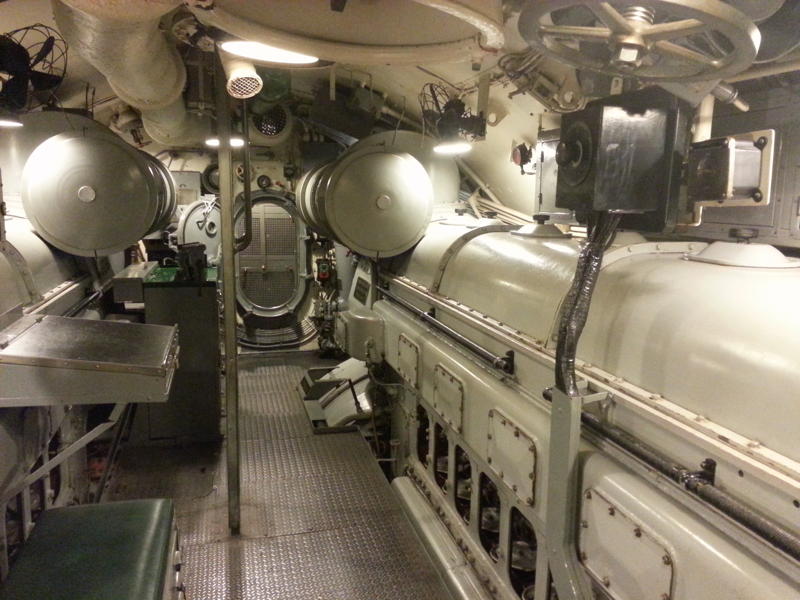 U505 - Chicago Science Museum - The US Navy captured U505 in June 1944 off Africa, and towed her to Bermuda. She is now presented in her own indoor hall at CMSI. She is very well presented - you can walk around and underneath her, and there is a guided tour that enters forward and exits aft. Apart from the hull and fittings cut out to make room for the tour she is pretty much as she would have been at war. The cut-out has removed the wardroom, and the tour doesnt include the upper conning tower.
The tour is quick (probably a bit too quick) but well presented, albeit rather focused on America winning the war single handed. Also, rather naive as to the intelligence value of capturing a boat less than a year before the war ended.
Absolutely a top boat for submarine enthusiasts. You have to buy a timed tour beforehand (I turned up at 0900 and there was only one slot left, so book ahead), and turn up at the exact minute as tours leave every eight minutes. It is not cheap!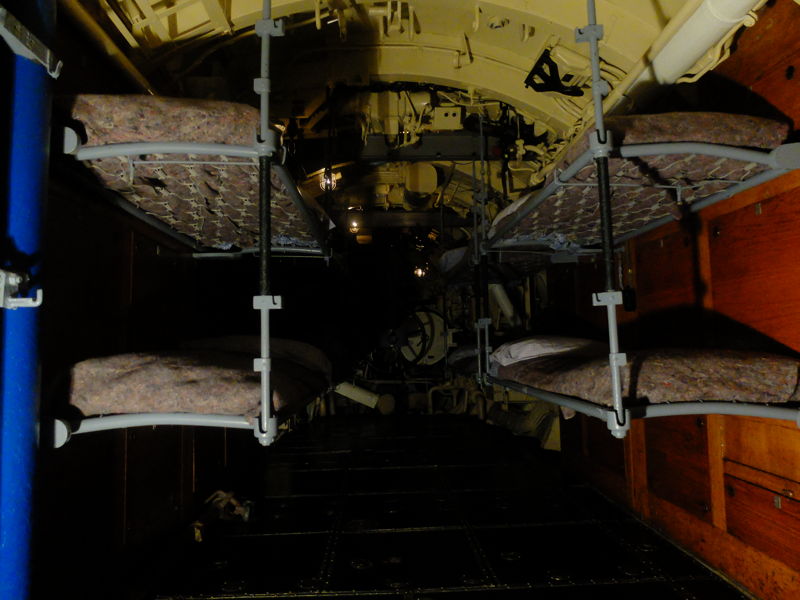 This is the aft torpedo compartment
Other boats I havent visited yet...
O boats:
Sydney - HMAS Onslow
Holbrook Aus - HMAS Otway
Fremantle Aus - HMAS Ovens
Rio - Riachuelo Oberon Class
Quebec - Onondaga O class
Port Burwell Ontario - HMCS Ojibwa O class
Sassnitz - HMS Otus
X Boats:
Helensburgh - X51 at the Submarine Centre
Gosport - X24 at the RN SM Museum
Aberlady Bay - the remains of two boats can be seen at low
Russian boats:
Zeebrugge - Foxtrot class
Tallin - Kalev class
Hamburg - Tango Class
Surabaya - Soviet Whiskey 1952
St Petersburg - Narodvolets 1994
St Petersburg - S189
Togliatti - Tango class
Kaliningrad - Foxtrot class
Vytegra - Foxtrot class
Long Beach - Foxtrot class
Providence Rhode Island - Soviet Juliett class
Krasnodar - Quebec class
European boats:
Helsinki - Vessiko
Marseille - Naiad class 1904
Paris - Argonaute 1959
Saint Nazaire - Espadon 1958
Lorient - Flore 1961
Milan - Enrico Toti 1967
Genoa - Sauro 1976
Karlskrona - Naeken 1980
Gotteberg - Draken 1962
Karachi - Daphne class 1970
Haifa - Gal 1975
Den Helder - Potvis 1965
Copenhagen - Seal - a modern boat, but only open on a few days a week.
Cherbourg - SSBN
Tallin - Lembit, built at Vickers Armstrong
Uboats:
Munich - U1
Laboe - U995
Bremerhaven - U 2540
Speyer - U9 1960
Fehmarn - U11
Peenemunde - U461
Wilhelmshaven - U10 1960
Channakale - UB46
Birkenhead - U534 (in pieces)
Malmo - U3 1942
Japanese boats:
Visakhapatnam - Kursura 1969
Kure - Yushe 1985
Groton CT - Japanese Type A midget
Fredericksburg Tx - Japanese Type A midget
Etajima - Type A midget 1940
Guam - Japanese MIdget submarine
Gangneung - Sang -O class
Karlskrona - Holland 1904
US Boats:
Istanbul - ex USS Thornback
Charleston - CSS Hunley
Paterson NJ - two Holland boats
Groton CT - USS Nautilus SSN
Hackensack NJ - USS Ling
Galveston TX - USS Cavalla
Buffalo NY - USS Croaker
Portsmouth NH - USS Albacore
Muskogee OK - USS Batfish
Philadelphia PA - USS Becuna
Honolulu - USS Bowfin
(more to come...)
Orkney
Mike Ilett, an ex RN submariner, has created a unique submarine museum at his house on Orkney (Eday, to be precise). He has mounted salvaged equipment from HMS Otter, HMS Artemis, and a few others, and is happy to receive boarders: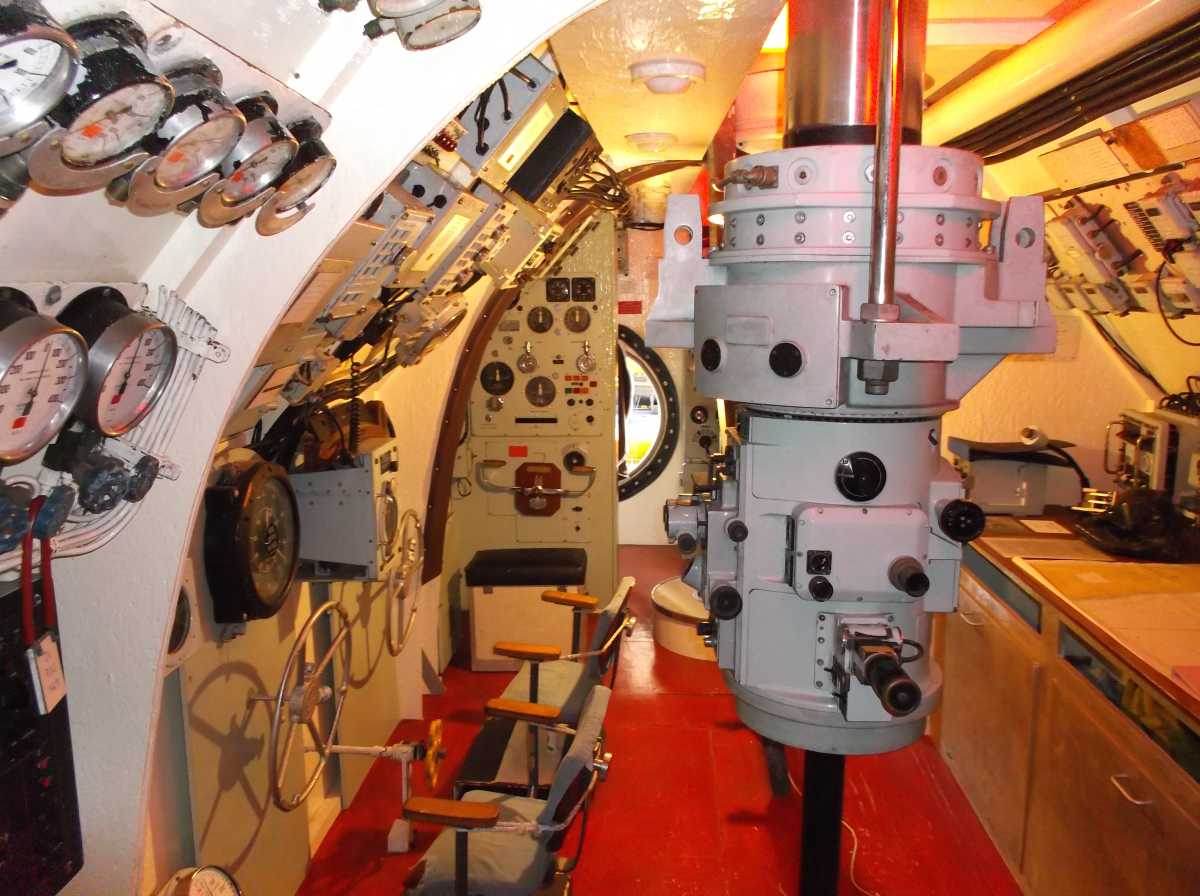 Below: the valve gear came out of Artemis.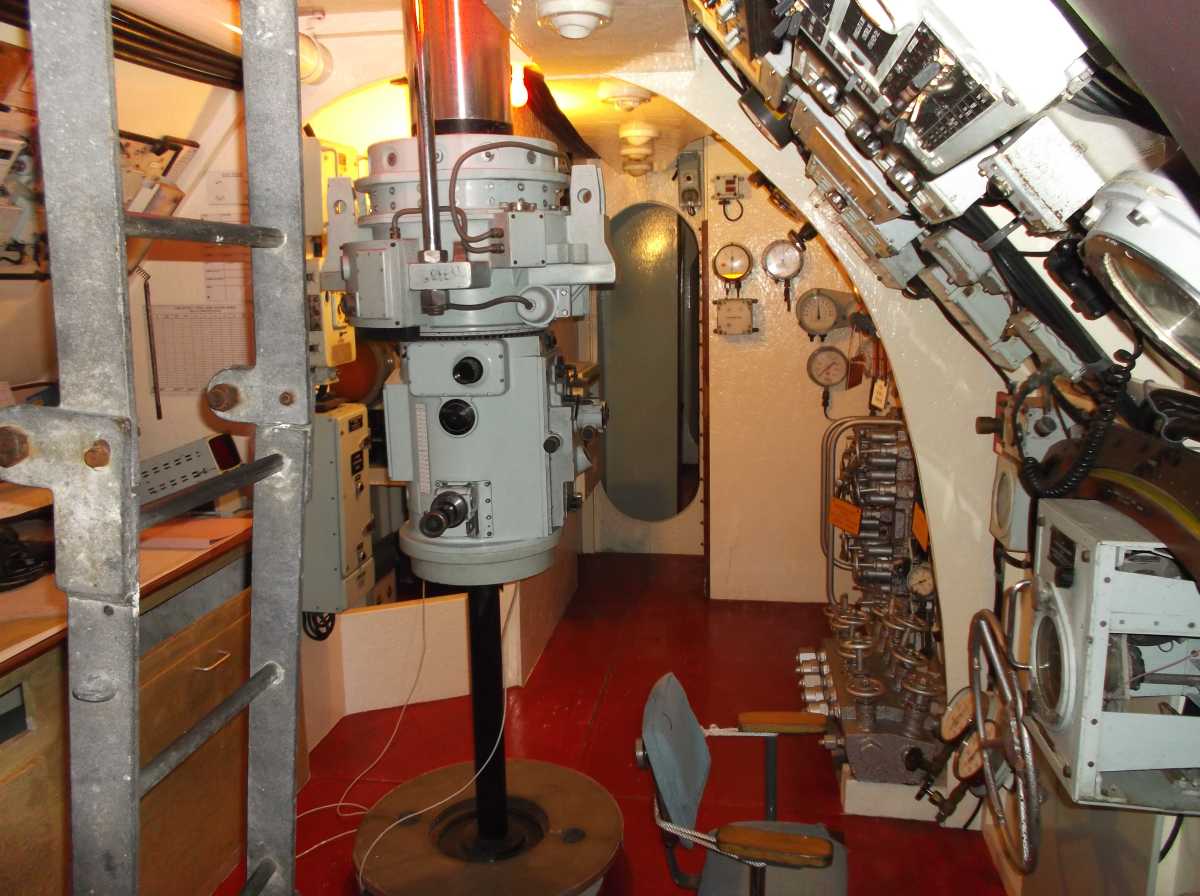 The motor room: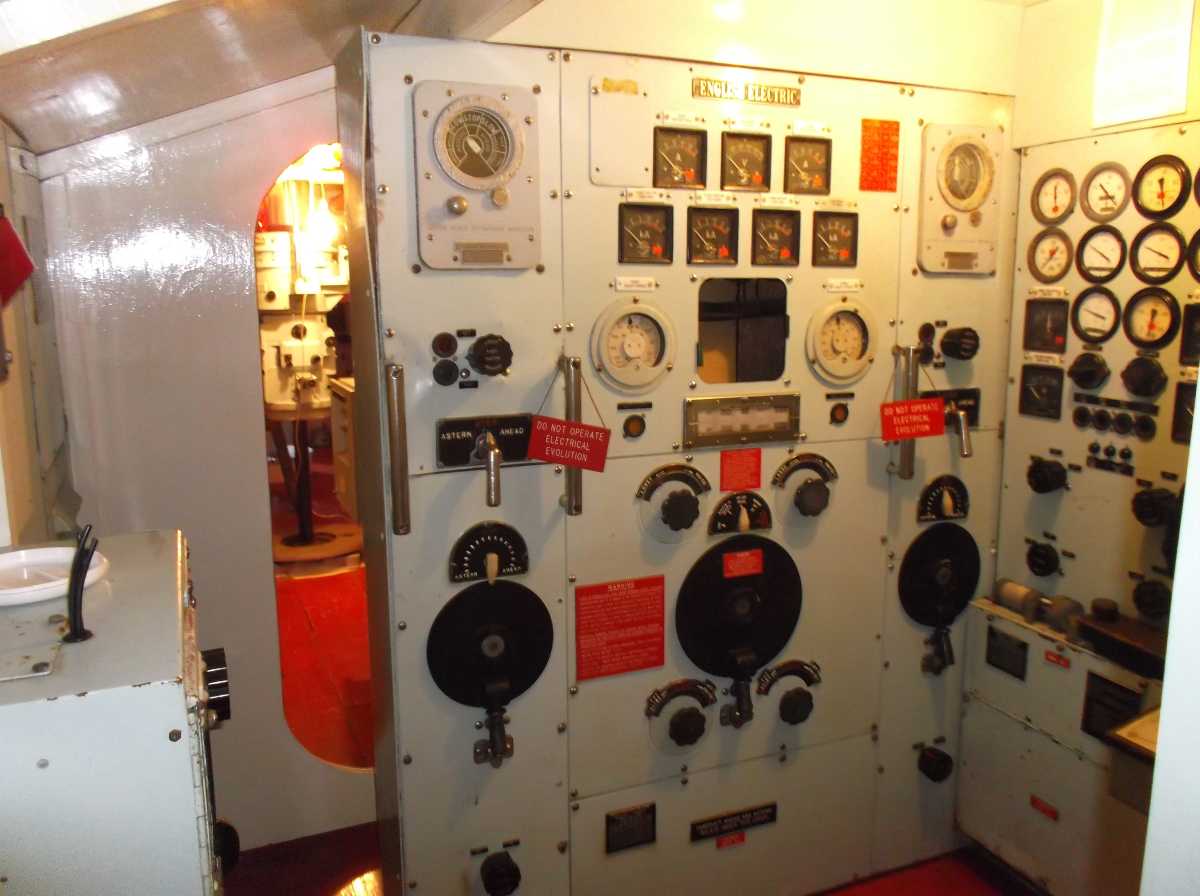 The charging panel: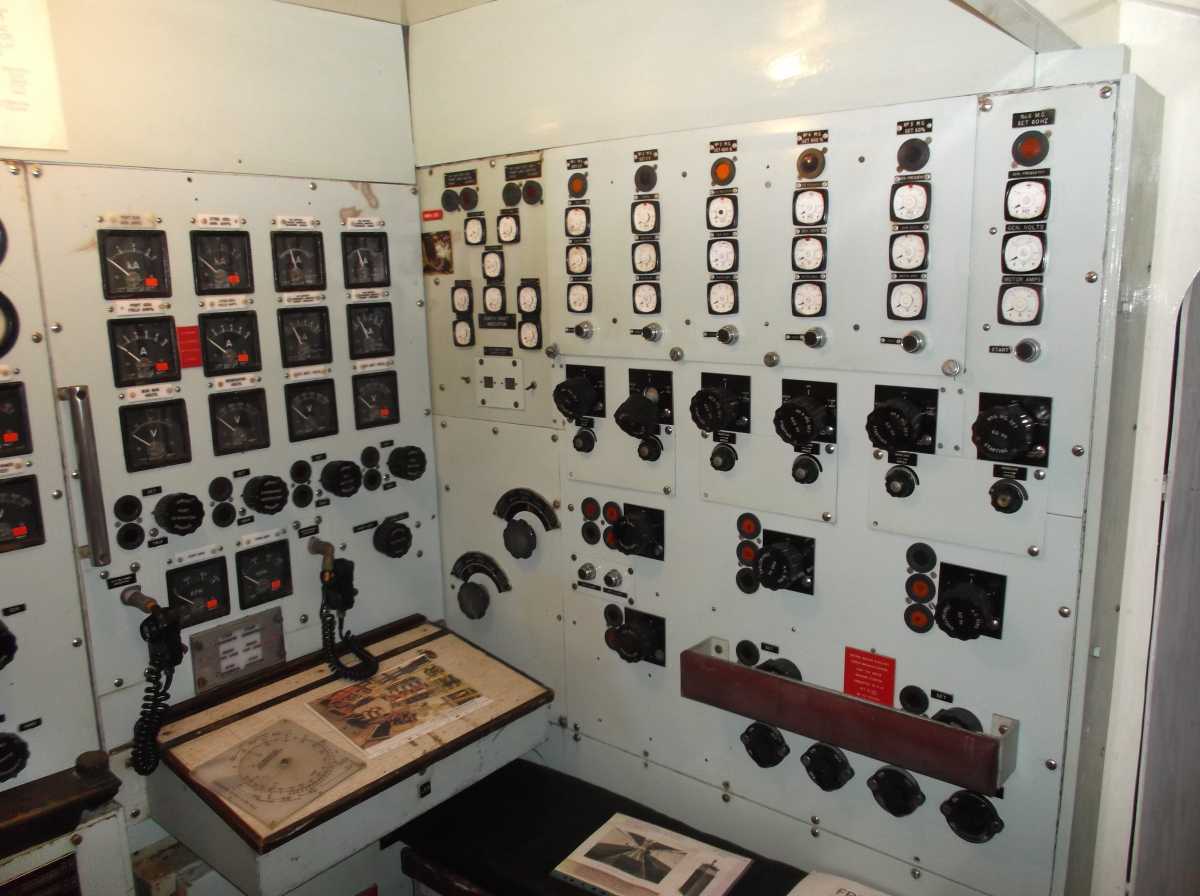 A passageway: